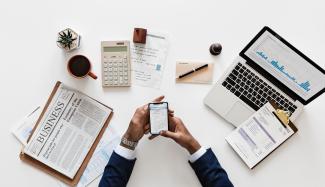 Protecting Business Owner's Dream
Owners put their heart and soul into their business – it begins with a dream and eventually becomes a reality. It consumes them as their passion, their source of income, their nest egg.  It's a creation that they've built from the ground up that becomes their legacy.  With the business being such a large component of their life, what happens if the course they are on becomes derailed by an injury or a sickness? How do they keep the doors open? What if there are more than one owner and one of them is unable to work due to disability? What happens if they lose one of their key people?
As a financial professional, it's our responsibility to make sure every business owner we work with has thought through these questions and understands the consequences of not having a plan in place. 
So, what does a comprehensive plan for a business owner look like?  A business owner needs to look at two areas of planning – personal and business. 
Personal Planning:
First and foremost, all client need to have personal coverage through Disability Insurance for their own income to cover their personal expenses. If they become too sick or hurt to work, they would receive a monthly benefit to cover their mortgage, utilities, groceries, etc.  What makes business owners unique is that they are able use programs with certain carriers to get better occupation classes and/or receive an increased monthly benefit based on being an owner.
Business Planning:
When the business is running smoothly, it's easy to not think about what could go wrong.  In planning and asking the tough questions, it forces the owner to think about the 'what ifs'. Here are the key what if's they need to consider:
                What if I can't come to work tomorrow – what keeps the business going?
                When an owner is unable to come to work, the expenses of keeping the business open still need to be paid.  The rent/lease of the space, the utilities to keep the lights on, the leased equipment, payroll taxes, salaries of employees, and many more.  How long would the business be able to run without the owner there? A Disability Overhead Expense policy can be a great way to cover the expenses when an owner is unable to work due to a sickness or injury – it offers a monthly amount of coverage that can help cover the expenses to keep the business open. It can buy tome to allow for the owner to either get better and come back to work – or – to plan what to do next without being forced to act too quickly whether by selling too quickly or having to close.
                What if one of the other owners can't come to work tomorrow?
                When a business has multiple owners, the importance of a Buy-Sell Agreement can't be expressed enough – a legal binding road map for what happens if a business owner exists and how the buying of the exiting owner's portion of the business will be handled and for how much.  First – make sure they have a Buy-Sell Agreement in place. Second – make sure they have the funding mechanisms in place so they can properly execute the plan when triggering events like an owner passing away, retiring, choosing to leave or being unable to continue to be active in the business due to an injury of sickness happen. The funding mechanism for when a disability is the reason for an owner's exit is a Disability Buy Out policy. 
                What if one the key people at the company is unable to work due to a disability?
                Every business has a key person or people – If they were unable to come to work, the everyday functions of the company would be heavily harmed.  Any business owner would be able to answer the question, "Who is your key person or people?".  They will know right away.  Many of these people are protected through Key Man life insurance and the concept is similar for Key Person Disability Insurance.  If the Key Person is unable to come to work due to a disability, the company needs to either be able to stay open until that person can return to work – or – have the resources available to hire a replacement.  That's exactly what a Key Person Disability Policy does.  It would pay a benefit to the company that it could then use that to hire a replacement or use it to keep the business running while they figure out the next steps.
One important point is that not all of these solutions are right for every business or business owner but it's important to ask the questions so you can understand what areas are lacking in their business protection plan.  It may be a scenario where right now only one or two of these concerns need to be addressed.  Then as the business evolves to include other owners or additional key people, you'll need to revisit these questions to uncover new gaps in coverage and address them.
If you have questions about these special programs or products, please reach out and we'd be happy to assist.  Know that we'll give you the resources and the tools to help you have these conversations to ensure your business owner client's are protected.